Autotask Documentation¶
This guide will show you how to set up your new Helpdesk Buttons with Autotask in as few as 15 minutes. You will need an administrative login for Autotask.
Anti-Virus and AntiMalware¶
It is not always necessary, but we recommend whitelisting the tier2tickets installation folder (C:\Program Files(x86)\tier2tickets). We regularly submit our code through VirusTotal to make sure we are not getting flagged, but almost all AV/M interactions cause some sort of failure. Webroot in particular can cause issues with screenshots.
Dispatcher Rules¶
This is the list of variables that can be accessed when using the Dispatcher Rules.
Unless otherwise stated, using the plain text exactly as it appears on the ticket should work for setting the variables in the dispatcher rules.
Setting up Webhooks¶
Autotask does not yet have webhooks for ticket events, but we can simulate this functionality by setting up an Extension Callout and a couple of Workflow Rules.
Extension Callout¶
First head to Admin -> Extension & Integrations -> Other Extensions & Tools -> Extensions Callout (Tickets)
Click New Extension Callout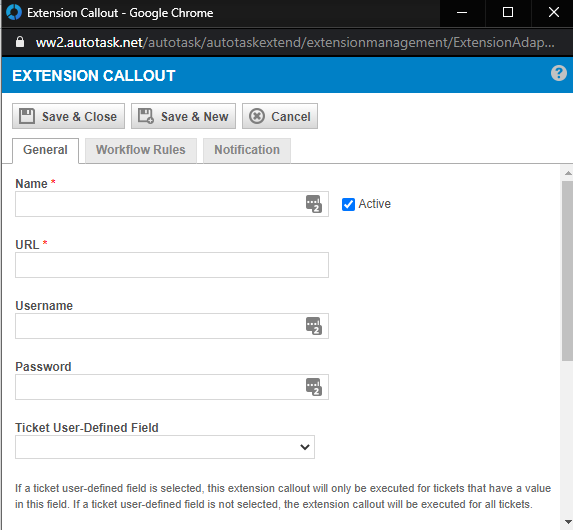 Name the callout and make sure it is set to active.
URL should be listed on your Integration Settings Page. under the Ticket Notification section.
No Username or Password is needed for our API
HTTP Transport Method should be POST
Data Format should be Name Value Pair
Workflow Rules¶
Navigate to Admin -> Workflow Rules
You will want to create two rules one for Ticket Creation and Update and another for Ticket Notes
New Ticket/Ticket Updated¶
Here is an example of a workflow that sends when a ticket is created/updated by anyone
Note added to ticket¶
Create another workflow rule but for the EVENT select Note Created by anyone