osTicket Integration¶
This guide will show you how to set up osTicket to work with your new Helpdesk Buttons.
Create Your API Keys¶
Once you are logged in as an Admin. Click on Admin Panel in the top-right.
Now click API Keys under the Manage tab.
We will need to create two API Keys. For each key, click Add New API Key and fill out the form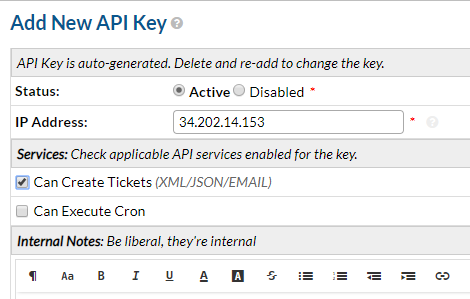 osTicket requires API Keys be paired with IP addresses. Helpdesk Buttons servers are located at:
34.202.14.153
3.209.57.193
Let's Label these as Key1 (34.202.14.153) and Key2 (3.209.57.193)
Advanced Integration Options¶
This is the list of variables that can be accessed when using the Custom Rules.
| Read/Write | Read Only |
| --- | --- |
| priority | selections |
| alert | name |
| auto_respond | email |
| message | append |
| subject | mac |
|   | ip |
|   | hostname |